My name is Eugene Koh, Senior Division Director in ERA Realtor Network, and leading the Galaxy Group. I graduated from National University of Singapore and have been in the real estate industry for 8 years.
I believe in 3 key components to being a successful real estate agent. Firstly, connecting with my clients to understand their needs and goals. Secondly, to design and implement a strategy to create more value to my clients' existing portfolio. And lastly, to build on trust to establish on a long time relationship.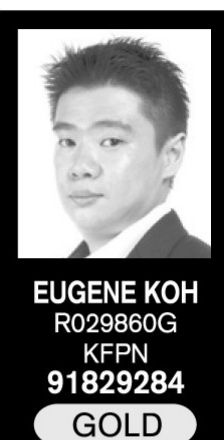 My team and I have been privileged to be recognised through various awards in my previous company (Knight Frank). In 2014, I am the Top Deputy Head Business Unit (1st Position). In the same year, I have been awarded the SAEA Best Leader award - GOLD. This award is a significant leadership award among the leaders in the industry, and is made possible with the support of an outstanding team of driven agents.
Our recruitment strategy is to focus within. To identify leaders within the group, create an environment to foster selfless sharing among team members and most importantly to succeed together. In 2016, the team achieved a huge milestone and was awarded the Number 1 Business Unit per Capita.
As a mentor, I have groomed achievers grossing over $500,000 commission in a singular year. If you are generally a positive person, with the right ethical values and have a mindset to succeed, Galaxy Group welcomes you to join us. Please contact any ERA Galaxy Division Directors for more information.
Galaxy Group Division Directors
| | | | |
| --- | --- | --- | --- |
| K S Tan | Alicia Yang |  Phyllis Ngam | Eugene Koh |
| R006752D | R004405B | R014673D | R029860G |
| 90060063 | 94871896 | 98501139 | 91829284 |